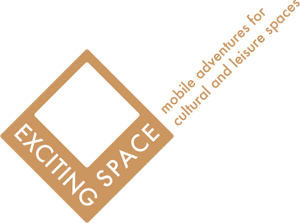 YOUR NEEDS...
Better interaction with your customers and visitors.
Better, longer and repeated visits.
Creative and differentiating entertainment.
OUR SOLUTION...
An innovative approach to enriching the visitor experience that combines:
exploring the venue and its points of interest.
learning in a fun and entertaining way.
interacting with friends and family.
BENEFITS...
increasing traffic and sales.
a presence on visitors' mobile phones.
non-invasive interaction with visitor.
encouraging visitor traffic to specific areas.
being seen to be an innovative market leader.
" Make your space an exciting space! "
WEB SITE, GRAPHIC DESIGN AND PHOTOGRAPHY, COPYRIGHT © 2011 EXCITING SPACE